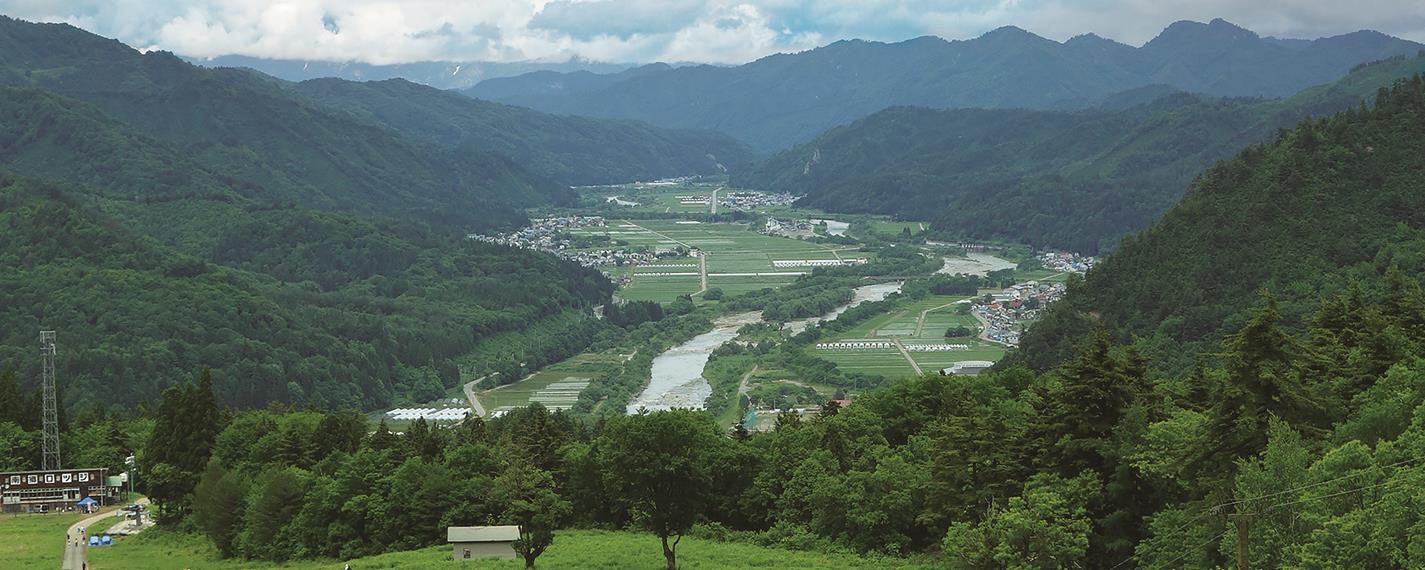 Our project to revitalize the local communities through food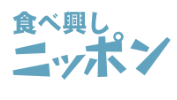 We work on "movement to boost development in the area through food" in cooperation with nationwide local communities, local financial institutions etc.
Support branding of local specialty goods
We support comprehensively the branding of local specialty from commercialization, market development to media promotion.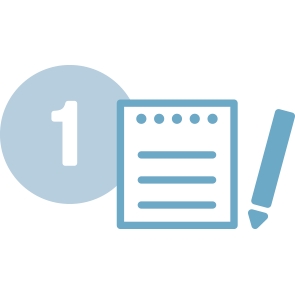 Product planning/
Development support
With our network of more than 100 companies nationwide, we make [brand] processed product of local specialty.
Research analysis
Product strategy
Sales strategy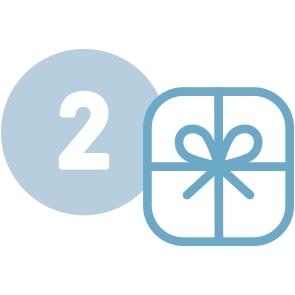 Local [souvenir] branding support
We support establishing [souvenir] brand for local sightseeing clients and aim brand improvement of the whole area.
Product development
Creation of 1-Tsubo SHOP
Test sales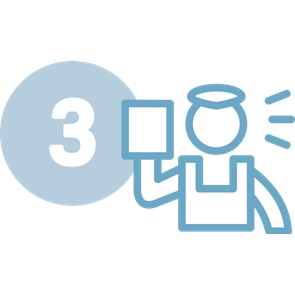 Market development
Aim for new gains and local branding by selling in market such as our "in-the-station" shops in large cities.
Media Promotion
Ceremony planning/management
Market development (local/metropolitan)
Alliance coordination
In-the-station local specialty goods business deployment
In the occasion where local area gains attention such as destination campaign and the opening of Shinkansen, we deploy local specialty goods exhibition in coordination with local financial institute.
Past product exhibition
Niigata product exhibition
Yamagata product exhibition
Opening of Hokkaido Shinkansen
Fukushima product exhibition
Kyushu product exhibition
Opening of Hokkaido Shinkansen
Kyoto
Ehime
Location
Tokyo Station
Shinagawa Station
Ikebukuro Station
Yokohama Station
Oomiya Station
Akihabara Station
Shiodome Station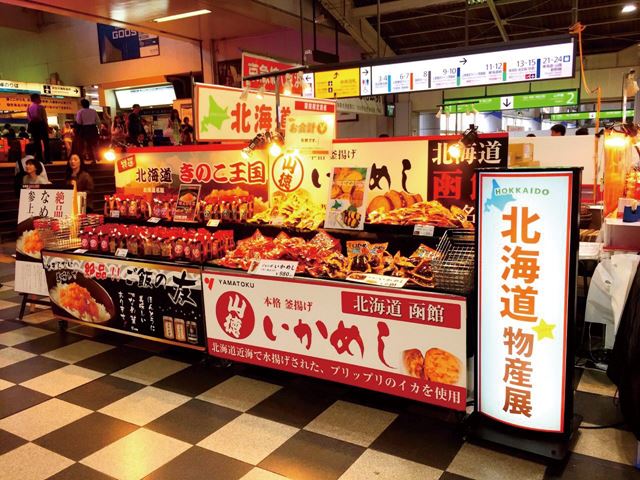 Cases
Case 1
Chiba Sammu city
Strawberry
With the effect of Great East Japan Earthquake, the number of strawberry picking tourists halved compared to last year.
We planned "Sanmu Strawberry Pudding" by using strawberries which were kept frozen and produced a popular souvenir product of Sanmu city.
Every facility in the city worked together to sell and contributed to increase the number of tourists and it exceeded that of pre-earthquake.
Case 2
Hokkaido Mikasa city
Melon
This project aimed to vitalize the whole city by branding "Mikasa Melon."
We targeted on tourist souvenirs not by comparing with successful "Yubari Melon" but by maximizing the specificity of Mikasa Melon.
We sold not only in local area but also in metropolitan areas and aimed to raise the recognition.
Case 3
Fukushima Prefecture
6th sector products
We loosely gathered 6th sector products that used ingredients proudly produced by producers in Fukushima prefecture, and branded them as "Fukushima Manten-do."
We developed popular products and expanded markets through test-market and training etc.
Case 4
Tochigi Prefecture
Specialty goods
We were consulted from "Michino Eki Domannaka Tanuma" about cultivating new variety of strawberry "Natsu-otome," and about handling and hiring throughout the year. We opened a new brand "Parlor Hachi" which provides sweet burger in collaboration with Hattendo.
They provide seasonal products collaborating with Tochigi's specialty goods.
Case 5
Kagoshima Ibusuki city
Mango
We launched "The Original Souvenir Brand only available in Ibusuki City," and aimed to revitalize the souvenir business of the city by taking advantage of being a birthplace of mango's economic cultivation.
In order to gather the power of business operators, we also established and act in general incorporated foundation.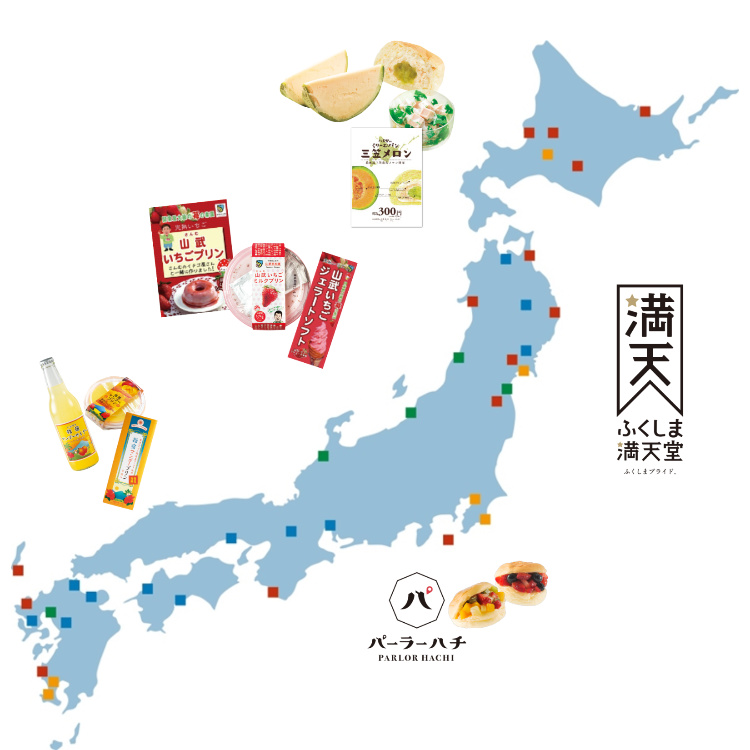 List of contact
Projects commissioned by local town
Iki City Hall

Nagasaki Prefecture

JA Kagoshima Tea Industry

Kitanakagusuku

Ishikari City Hall

Akabira City Hall

Tsubetsu Town Hall

Hokkaido central agriculture test field

Rokkasho City

Kuji local emplyment creation comittee

Miyagi Prefecture

Fukushima Prefecture

Tokyo Chamber of Commerce Association

Wakayama Prefecture
Coordination of local financial institute/"In-the-station local specialty goods exhibition"
Kirishima City

Ibusuki City

Mikasa City

Ishinomaki City

Ichihara City

Sanmu City
Support branding of local specialty goods
Akita Prefecture (small to medium sized company group association)

Yamagata Prefecture

Niigata Prefecture

Fukushima/Kumamoto/Nagasaki/Oita

Fukushima Prefecture
Alliance local financial institute
Tohoku Bank, Ltd.

Juroku Bank, Ltd.

Michinoku Bank, Ltd.

Toyama/Ishikawa Prefecture

Kyoto Bank, Ltd.

Chugoku Bank, Ltd.

Fukuoka Bank, Ltd.

Kumamoto Bank, Ltd.

Shinwa Bank, Ltd.

Oita Bank, Ltd.

Iyo Bank, Ltd.

Shikoku Bank, Ltd.
Tohoku Reconstruction Support "Ring of hope"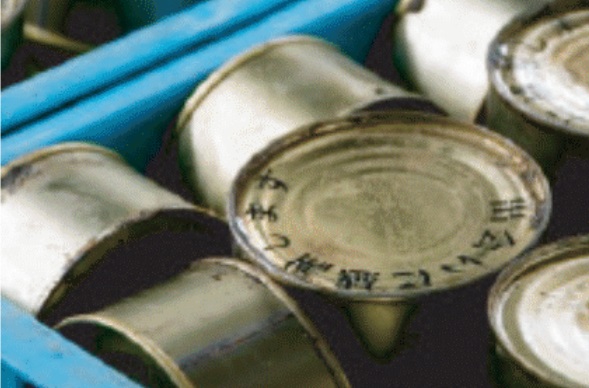 The activities of naming the dug-up and washed can products of Kinoya Ishinomaki Suisan buried in the rubble by the Great East Japan Earthquake as "Can of hope" and aiming to raise cash were widely introduced in the media and expanded. In order to spread the ring of support more widely to afflicted areas, we established and act as Ring of Hope, a general incorporated foundation.
To gather this power of support more effectively and to spread it widely to afflicted areas, we established Ring of Hope, a general incorporated foundation in Ishinomaki and promote activities.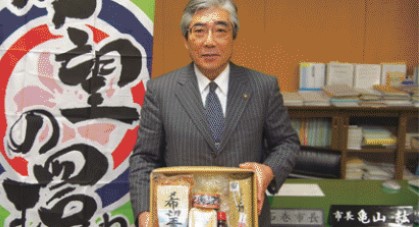 The mayor of Ishinomaki-shi, holding a mail-order item "Hope Assorted Box" in his hand.
We sell about 10,000 boxes every year in March.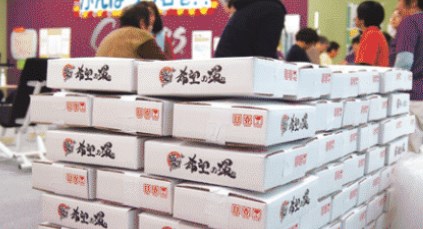 Accumulated sales of assorted box is approximately 70,000 and sales are 300 million yen.The shipping operation are done by local women.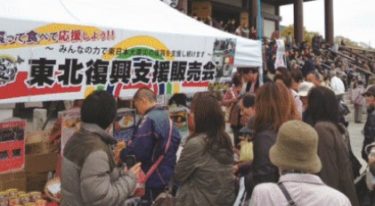 We promote locating stores in events, food festivals, shrines/temples and New Year's shrine visit in various regions so that more people would acknowledge Ishinomaki and Tohoku food.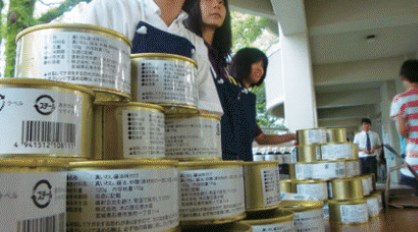 The ring of reconstruction support by students.
Event sales of "Ring of Hope" is promoted at school festivals in more than 1500 schools in total.
Deployment of producer/retailer business
In order to provide the "fresh" taste of ingredient nationwide, we developed and deployed "producer/retailer business" on the stage of food festival.
Participated shop
Miyagi Ishinomaki
Kaki Koya
Miyagi Ishinomaki
Kai Mamire Shokudo
Sendai Zunda Moa
100 hours Curry Bread
Projects commissioned by local town
2015
Akita Prefecture
Commissioned project of sales management of test sales in metropolitan in-the-station shop
Tokyo Chamber of Commerce Association
Island matching support project related to Tama Island area resource PR
2016
Akita Prefecture
Consultation regarding souvenir development support in Tokyo
Fukushima Prefecture Permanent shelf installation activity as a counter-rumor (6th sector support business)
Wakayama Prefecture
Improve recognition and sales promotion (in metropolitan area etc.) of Premier Wakayama
Nagasaki Prefecture
Ikiben Project strategy planning
Nagasaki Iki City Hall
Ikiben Project strategy proposition/PR Planning
Hokkaido Akabira City Hall
Making local agricultural products into specialty goods
Hokkaido Tsubetu Town Hall
Research for strategy proposition
Tokyo Chamber of Commerce Association
Island matching support project related to Tama Island area resource PR
Okinawa Kitanakagusuku Town Hall
Strategy planning for branding of Kitanagagusuku's ingredient
Aomori, Rokkasho Town Hall
Commissioned business of local pride creation PJ
2017
Akita Prefecture
Consultation regarding souvenir development support in Tokyo
Fukushima Prefecture
All-year counter-rumor project by PR of 6th sector products
Wakayama Prefecture
Improve recognition and sales promotion (in metropolitan area etc.) of Premier Wakayama 2017
Aichi Prefecture
PR/test marketing project in metropolitan rail station etc.
Nagasaki Iki City Hall
Product/Market development support project of Iki city
Nagasaki Iki City Hall
Commissioned project to build and run the online shopping website of general incorporated foundation, Iki city Furusato Co.
Hokkaido Akabira City Hall
Making local agricultural products into specialty goods
Hokkaido Ishikari City Hall
Development of new souvenir goods using local products/Commissioned project of consultation and support
Tokyo Chamber of Commerce Association
Island matching support project related to Tama Island area resource PR
Okinawa Kitanakagusuku Town Hall
Product development project for branding of Kitanagagusuku's ingredient 2017
Aomori Rokkasho Town Hall
Commissioned business of local pride creation PJ
Aomori Rokkasho Town Hall
Commissioned project to support opening a Rokkasho town specialty goods shop
Warabi Chamber of Commerce and Industry
Commissioned business to expand the new ∞ project which utilize local power nationwide 2017
Fukui Mihama Town Hall
Project to develop and research souvenirs of Mihama 2017